DIRECTIONS TO CLASS/CLUB LOCATIONS


From South Bay

: Take 101 North to 280 split and take north this to Downtown/6th Street. Exit Mariposa.Go Right (towards SF Bay) on Mariposa to Indiana, and turn right. Go down 1 block to Cafe Cocomo.

From East Bay

: Take Bay Bridge west and exit 5th Street (Left lane). Go straight at end of ramp

and veer a little left onto Harrison Street. Take Harrison Street to 6th street and then turn Left.

After 2 stop lights This will lead directly onto the ramp for Highway 280 South. Stay in right lane on 280.Take 280 for about one-half mile and exit Mariposa. Stay right, ramp curves around 180 degrees and then street goes downhill to hit Mariposa St. Take a Right onto Mariposaat stop sign. Cross under 280 and turn right on the first street which is Indiana St. Go down 1 block to Cafe Cocomo.

From San Francisco

:

Cocomo is in the Potrero district. You can take Army East to 3rd Street and turn left to Mariposa.

Turn Left and go two blocks to Indiana. Turn Left again and Cafe Cocomo is in the middle of the block. From downtown area you can take 10th street to Potrero and up Potrero Hill. Turn left at 17th street. Turn right at DeHaro (Metronome Ballroom) and go 1 block to Mariposa. Turn Left and go under Highway 280 to Indiana Street. Turn Right and Cafe Cocomo is in the middle of that block.

PARKING FOR CAFE COCOMO: Ample free street parking!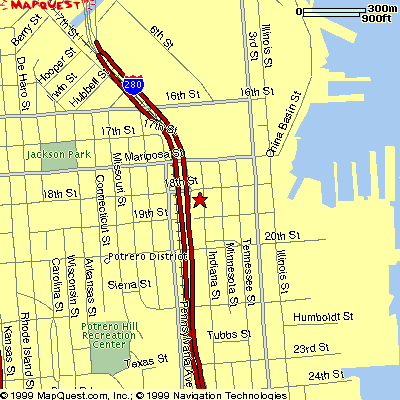 Directions to Private Lessons given at time of appointment...